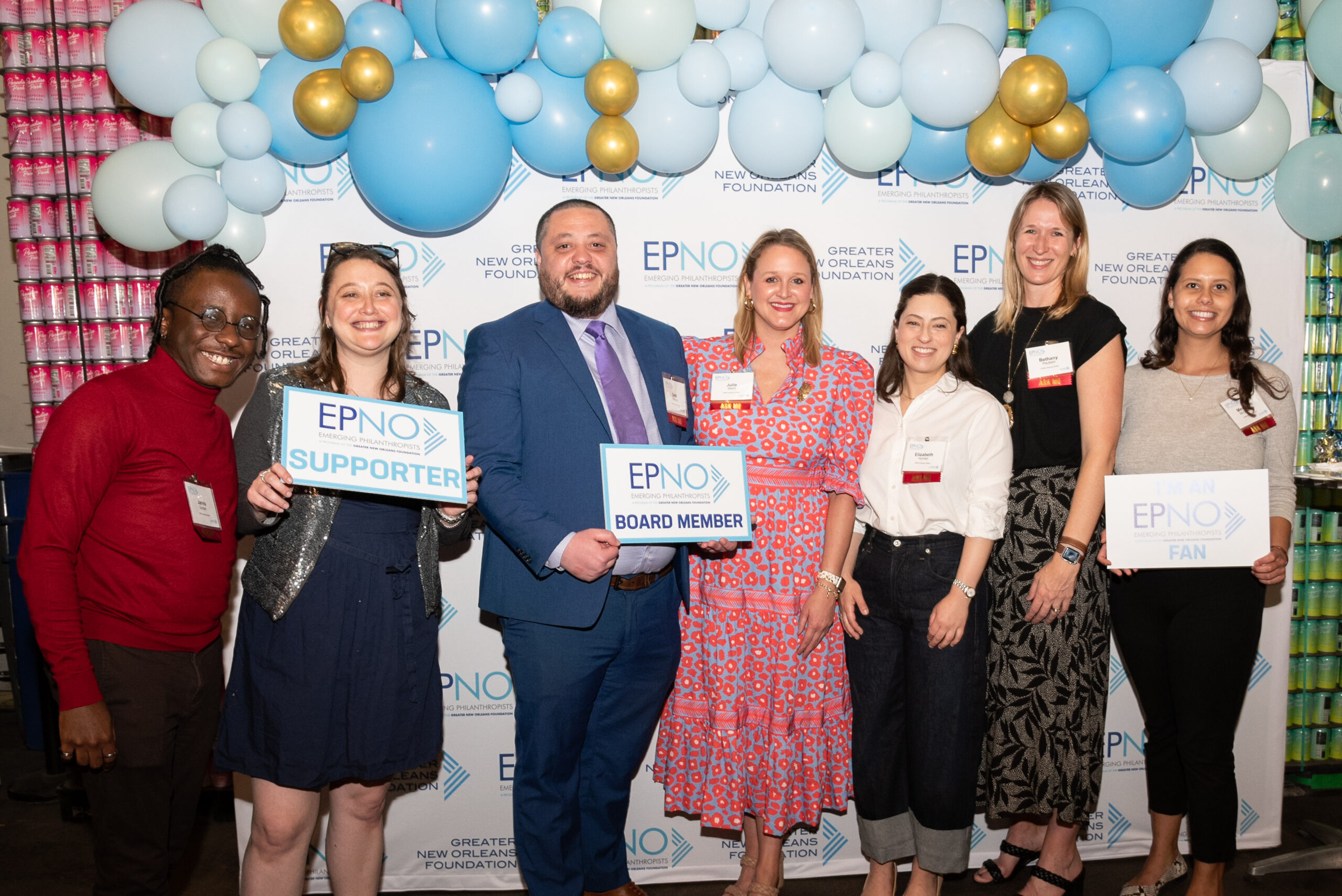 (Left to Right) EPNO Board Members Jarvis Gorden, Lizy Freudmann, Seth Heavey, Julie Ward, Elizabeth Hyman, Bethany Paulsen, and Meaghan McCormack (Photo Credit: Chuck Billiot)
New Orleans (March 23, 2023) – This week, the Greater New Orleans Foundation (Foundation) officially welcomed the Emerging Philanthropists of New Orleans (EPNO) to the Foundation's family, creating a longstanding relationship that will welcome Southeast Louisiana's next generation of philanthropists. This move represents an important step to building upon EPNO's 15-year history of successes while strengthening the program to be more sustainable and impactful in the future. Over 475 alumni have gone through the EPNO program.
"I want to thank EPNO's past and present leadership, who have worked so hard over the years to make EPNO the impactful program it is. And I want to personally congratulate the current EPNO board on the work they have accomplished over the last year to make this partnership a reality," said Andy Kopplin, President & CEO of the Greater New Orleans Foundation. "EPNO was born out of the Greater New Orleans Foundation in 2008, so this is truly a full-circle moment, a homecoming. And as the Foundation celebrates our centennial year, there is no better time than now to welcome and inspire the next generation of philanthropists who will lead us into our second century."
"This partnership represents a significant milestone for both the Emerging Philanthropists of New Orleans and the Greater New Orleans Foundation, "said Julie Ward, EPNO Board Chair. "Combining EPNO's unmatched program and the resources of the Foundation will help change what it means to be a philanthropist in our region. I am incredibly grateful to my fellow board members and former EPNO leaders who helped us reach this moment. And I cannot thank the team at the Foundation enough for the ongoing support, guidance, and encouragement. I am eager to see the impact of the EPNO class of 2023 and the classes to follow."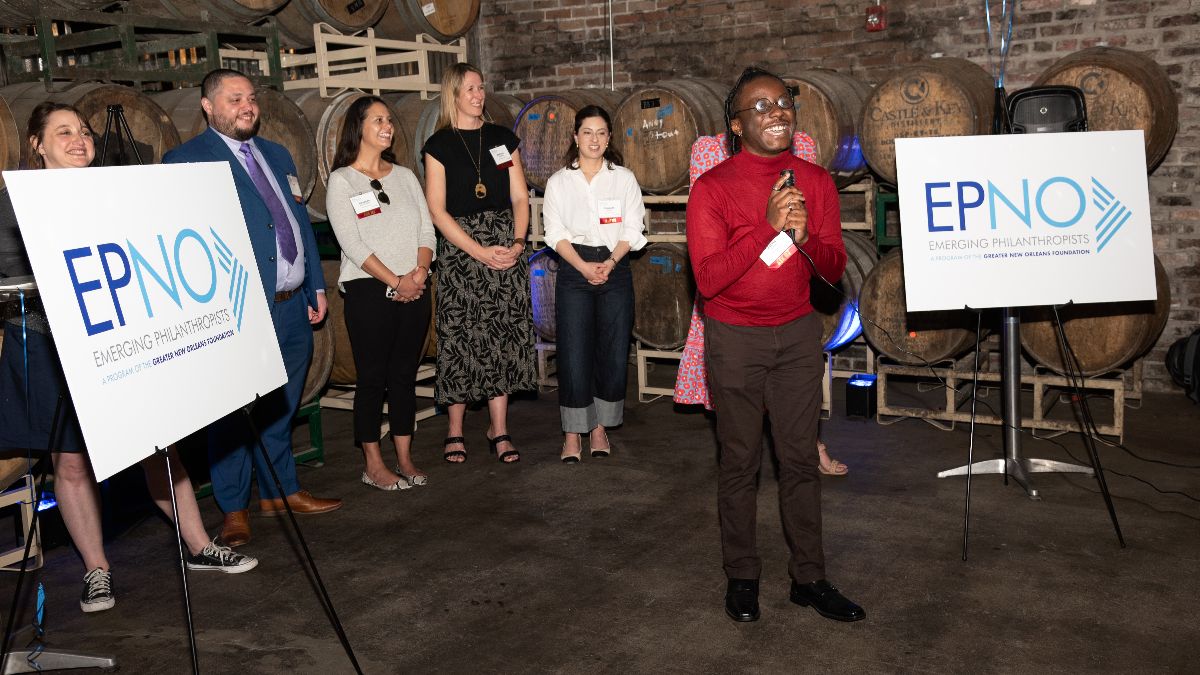 EPNO Board Member Jarvis Gorden addresses attendees at the celebration of the strategic partnership between the Greater New Orleans Foundation and Emerging Philanthropists of New Orleans. (Photo Credit: Chuck Billiot)
EPNO uses a giving circle model to bring together individuals in the Greater New Orleans region to collaboratively and collectively make changes in their communities by learning and giving together. A 50-person class is separated into five groups, each dedicated to one focus area: housing, health, environment & sustainability, arts & culture, and human rights & justice. Class members also attend a series of educational sessions, with topics such as "Grantmaking 101," and learn from expert guest speakers from the community.
Through a high-engagement, six-month program, local emerging leaders are connected with other emerging leaders, nonprofits, and the greater community to positively impact our region through granting funds to organizations tackling some of our toughest problems. A founding principal of EPNO, and something that EPNO participants understand, is that anyone can be a philanthropist regardless of their status or net worth.
In their groups, session participants review proposals from nonprofits in the Greater New Orleans area seeking support, conduct site visits, and decide how to allocate funds. Grants that EPNO makes to organizations are flexible in giving to direct service and general operating projects and are often the first grant a new organization will receive. Giving circle participant fees are matched by sponsorships and alumni contributions to make a pool of funds.
By sharing the knowledge and awareness of philanthropy and community, the goals of giving circles are to encourage members to be active participants in their community and inspire them to give strategically throughout their lives. The giving circle model provides a way for EPNO to support grassroots organizations by scaling which also helps to build stronger organizations.
If you are interested in joining the EPNO Class of 2023, create a profile in the Greater New Orleans Foundation's application portal, and select the EPNO Application. Please contact EPNO@gnof.org if you need any assistance with the application process.
To support EPNO, a program of the Greater New Orleans Foundation, click here.
WANT TO KNOW MORE?
For more information about EPNO, get in touch with our team at EPNO@gnof.org.
###
About the Greater New Orleans Foundation:  
With roots extending 100 years, the Greater New Orleans Foundation connects generous people to the causes that spark their passion. As one of the most trusted philanthropic organizations in the region, we work every day to drive positive impact through philanthropy, leadership, and action in our thirteen-parish region. In addition to grantmaking, we convene people, resources, and ideas to create intelligent strategies and solutions to meet our region's greatest challenges. We are proud to serve as a vocal civic leader with our partners to ensure a vibrant, sustainable, and just region for all. Learn more at www.gnof.org.