Over $3 million distributed through four rounds of grantmaking 
New Orleans, LA –  Today, the Greater New Orleans Foundation announced $1,315,000 in immediate assistance grants to local nonprofits leading disaster response. The Foundation has now distributed over $3 million in four rounds of grants in Hurricane Ida Relief. Since activating the Disaster Response & Restoration Fund, more than 1300 individuals have contributed and over $6 million has been raised. 
"It has been seven weeks since Ida made landfall and for many, particularly those outside of the hardest-hit areas, it can be tempting to assume that life has returned to normal" said Andy Kopplin, President and CEO of the Greater New Orleans Foundation. "But as folks on the ground in those most impacted communities know all too well, this recovery will be a long process and we must continue to support our nonprofit partners as they provide critical assistance to our neighbors as they recover."
The Greater New Orleans Foundation is the community foundation for the 13-parish Southeast Louisiana region (Assumption, Lafourche, Terrebonne, St. Charles, St. James, St. John, St. Tammany, Jefferson, Orleans, Plaquemines, St. Bernard, Tangipahoa, and Washington) and has a board approved disaster response strategy that prioritizes Equity, Resilience, Nonprofit Sustainability, and Civic Participation.
After receiving guidance from parish officials performing damage assessments, and conducting due diligence to verify that the following nonprofits are actively responding to the unfolding disaster, the Foundation has made 36 separate grants ranging from $20,000 – $150,000 to the following organizations that are providing emergency food and shelter; health services; legal aid and technical assistance for residents working to navigate applications for assistance; support mucking and gutting operations; diaper distribution; and school support for children and young adults: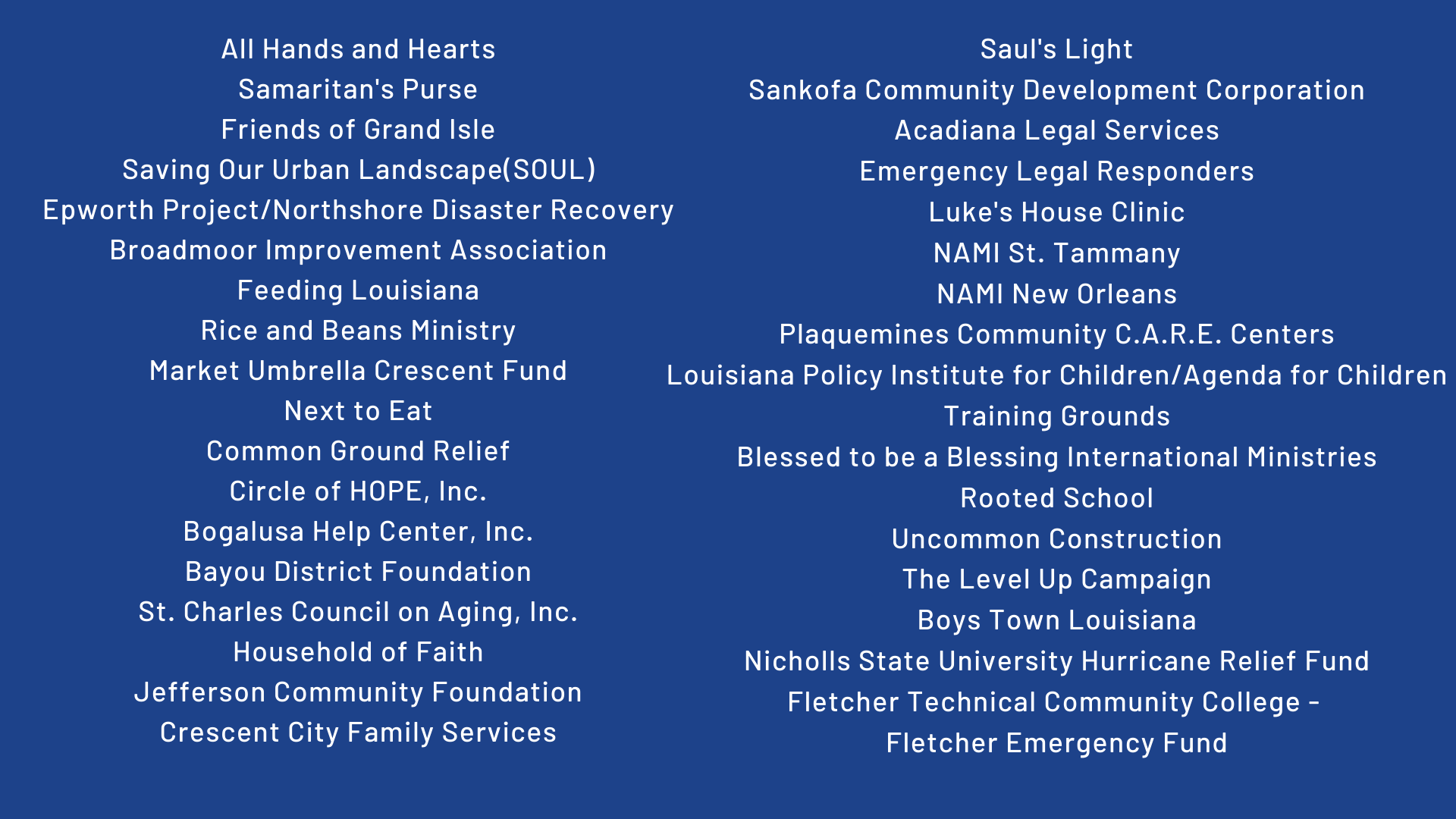 Mental health takes a priority in the Foundation's fourth round of grantmaking. "Emotional instability, stress reactions, anxiety, trauma and other psychological symptoms are observed commonly after a disaster," said  Nick Richard, Executive Director of National Alliance on Mental Illness: St. Tammany. "These psychological effects have a massive impact on the concerned individual and also on communities. Now is the time to highlight solutions and lifesaving solutions to fill gaps in the behavioral health care system. NAMI St. Tammany is proud to partner with the Greater New Orleans Foundation to impact the mental health needs in our community." Both NAMI St. Tammany and NAMI New Orleans received grants. 
Blessed to be a Blessing, Located in LaPlace, is one of many BIPOC-led nonprofits receiving grants from the Foundation. Eliza Eugene, Executive Director, said: "We are so grateful to be the recipient of this grant. Blessed to be a Blessing is a boots on the ground 100% volunteer foundation. Seeing the devastation that so many of our families are dealing with after losing everything due to Hurricane Ida, this grant will help us impact the lives of our youth that are returning to school without the necessary tools needed to succeed. It is because of organizations like the Greater New Orleans Foundation that we are able to make a difference in our community. Together we will continue to touch and change lives in our community." 
The Foundation has made efforts to support local education institutions in impacted areas as well. "This is a remarkable gift from the Foundation as it will be able to impact many Nicholls State students" said Jeremy T. Becker, Executive Director of the Nicholls Foundation at Nicholls State University, which received a grant to support students whose housing was impacted by the storm. "As the university continues to learn of the vast and growing student needs, these funds will be able to have an immediate and a long-term effect as we continue on our long road to recovery." 
Through the Disaster Response & Restoration Fund, the Foundation also mobilizes and supports a network of voluntary and community organizations active in disasters (VOADS and COADS) whose expertise is deployed locally, nationally, and internationally. And the fund is used to honor the tradition of "paying it forward" by coordinating with a network of community foundations when disaster strikes other communities to get immediate support to the most vulnerable citizens. The Disaster Response & Restoration Fund provides immediate relief as well as long-term rebuilding support.
A full list of previous grant making can be viewed here.
The Disaster Response & Restoration Fund has received generous contributions from: 
| | |
| --- | --- |
| Mrs. Gayle Benson | Southern Insulators and Reliable Glass and Mirror |
| The Arthur M. Blank Family Foundation | William R. Kenan, Jr. Charitable Trust |
| The Baltimore Ravens and The Stephen and Renee Bisciotti Foundation, Inc. | The Kresge Foundation  |
| The United Health Foundation | The Humana Foundation  |
| Chevron, USA | Casey Langteau Johnson Art  |
| The Community Foundation of North Louisiana | Swedish Match North America |
| Aramco Americas | Humana Foundation  |
| The PepsiCo Foundation | Capital One |
| Federal Home Loan Bank of Dallas | Peterson Family Foundation  |
| The TJX Foundation, Inc. | Anonymous Donors |
| American Endowment Foundation (AEF) | Kenneth Spradley Donor Advised Fund |
| IBERIABANK/First Horizon | Five Below |
| JPMorgan Chase Foundation | The Blue Cross and Blue Shield of Louisiana Foundation |
| Forman Watkins & Krutz LLP | Delta Dental Community Care Foundation |
| The Boeing Company | Sherry and Alan Leventhal |
| Dick J. Guidry Fund | GlaxoSmithKline |
| Silicon Valley Community Foundation  | DJR Foundation |
| Donald B. Tanklage & Carole F. Tanklage Foundation | Aronson – Besthoff Fund |
| Stephen Elledge | Bertrand and Mariann Wilson Family Fund |
| Duane Morris, LLP | Jones Family Fund |
| Reynolds American and Santa Fe Natural Tobacco Company | Aliski Family Fund |
| Rockefeller Foundation | Further Forward Foundation |
| Ethel Reily Dicks Memorial Fund  | Dennis and Alisson Allen |
| Rachael Schultz Fund | Casey Langteau Art, LLC. |
| H. Eustis & Frederica G. Reily Family Fund | The Charles & Lucille King Family Foundation |
| J Aron Charitable Foundation, Inc. | Hilliard Lyons Trust |
| Jones Family Fund | Hueber-Breuer Construction Company |
| Greg and Donna Howard Family Fund | |
The Greater New Orleans Foundation is still accepting donations to the Disaster Response and Restoration Fund in the wake of Hurricane Ida. You can make your donation here.