You've seen them around town so you already know: Blue Bikes are back! With this warm winter weather we've been having, now is the perfect time to take these bikes for a spin. On December 30th and January 1st, these bikes were checked out over 1,000 times each day! The team from the Greater New Orleans Foundation took the brand new pedal-assist bikes for a test ride a few weeks ago; we all realized right off the bat that these things are quick! In addition to their speed, there's a few neat things to know about the brand new fleet of bikes. Today's post shares some intel on this fantastic re-addition to our city.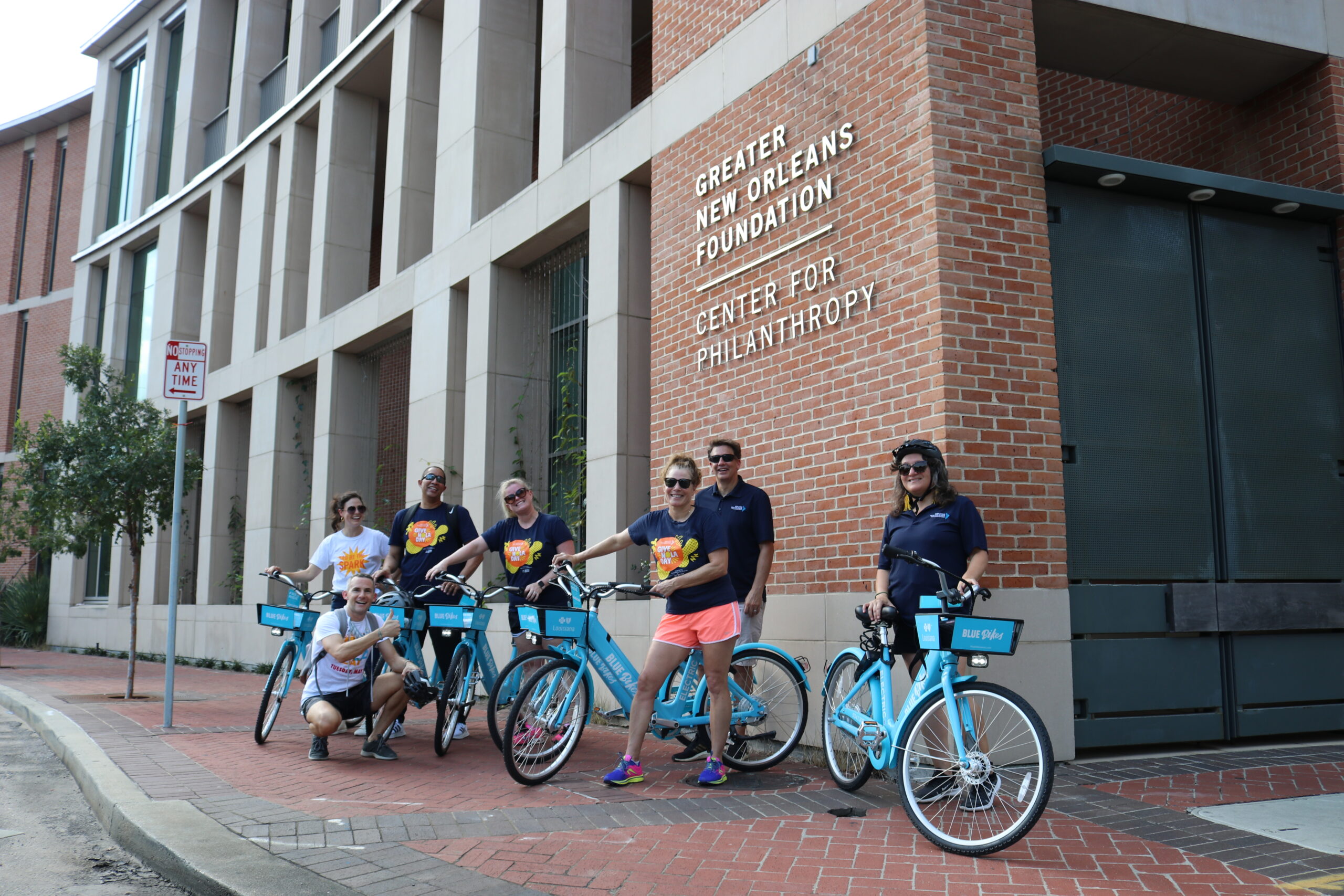 Blue Bikes are owned and operated completely by a locally-run nonprofit. No more Social Bicycles, Uber, or Lime. Everything – from the mechanics to the marketing, is managed by a local nonprofit called Blue Krewe. The Greater New Orleans Foundation created the Blue Krewe nonprofit and provided vital seed capital to get it up and running as well as fiscal sponsorship while it was getting its IRS status. Our CEO, Andy Kopplin serves on the Blue Krewe board!
Because it's a local nonprofit, it can't be taken away from New Orleans again. Like so many New Orleaneans, we watched in dismay as the bikes were removed during the pandemic. Prior to their removal, in their first two years for operations, Blue Bikes were ridden over 1 million miles, constituting a substantial carbon offset for the region and generating a gasoline cost savings of nearly $700,000. Now that it's locally-run, we can have confidence that their social and environmental impact is here to stay!
Blue Bikes and Blue Krewe are very much mission-driven. From the area of our city  that they serve to their Blue Bikes for All program, there is access, affordability and inclusion woven into every aspect of the bike's operation. Through the Blue Bikes for All program, New Orleans residents who qualify for Medicaid or Louisiana Purchase (S/NAP) can get a reduced ridership plan of $4 per month. 
They've got 504 pedal-assist bikes! Coincidence? We think not. And pedal-assist e-bikes ride just like any other bicycle; you simply get on and you pedal! The difference is when you pedal, a small electric motor adds an assist to each pedal stroke. This makes it possible to ride an e-bike to work without getting too sweaty in the summer and allows riders to go further than they might otherwise ride — providing access to more employment opportunities, more grocery stores, more restaurants, and more friends. Trust me on this one- these things go fast! 
Anyone can get involved! Blue Krewe is always looking for volunteers to help support the cause. To donate, volunteer, or learn more visit www.BlueKrewe.org. Blue Krewe's partners include Bike Easy, lead sponsor Blue Cross and Blue Shield of Louisiana, and the City of New Orleans. 
We loved our ride down Lafitte Greenway and into the CBD. Here's a few photos. Hope to see y'all on a bike soon!