We invite you to join us as we name the 8th District Substation in honor of 8th District Detective Robert E. Williams on Saturday, November 16 at noon at the New Orleans Healing Center, 2372 St. Claude Avenue.
Detective Williams spent his entire 10-year NOPD career in the 8th District (Central Business District and the French Quarter neighborhoods). He was a police officer with a reputation for tireless service. His patience and familiarity with the residents and business owners of the 8th District fostered lasting relationships of trust and respect.
In 1999, Robert would meet his future wife, Debbie, in the historic French Quarter; the two would marry in February 2002. Within a month of their marriage, Robert suffered a break to his collarbone. After testing, he received a diagnosis of multiple myeloma. The prognosis was grim: the illness was in its third and most severe stage, and had already spread to 80% of his body. Robert immediately began treatment, subsequently undergoing a bone marrow transplant from his only sibling, his brother, NOPD Sergeant Eric Williams.
The next six years were marked with both hope and despair, a roller coaster of life with cancer. With almost super-human determination, Robert continued on the police force, even during the dark days of Hurricane Katrina. At the same time, he and Debbie became dedicated advocates for improved insurance and healthcare coverage for all NOPD officers. Robert and Debbie's diligence were rewarded when the City's policies were increased by 100% and amended to include catastrophic coverage for all subscribers. Robert fought valiantly against multiple myeloma for many years, but ultimately lost his battle in December 2007.
Robert E. Williams Jr. Memorial Fund Presentation
After his death, Robert's wife, Debbie, founded the Robert E. Williams Jr. Memorial Fund, held at the Greater New Orleans Foundation, which benefits NOPD officers who have suffered from an illness or other life setback that would be considered critical or catastrophic. Debbie will make a presentation to two NOPD officers at this event.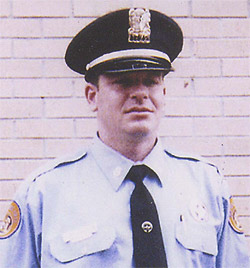 Who: Family and Friends of Detective Robert E. Williams
What: Naming of 8th District Substation in Honor of Detective Robert E. Williams and Presentation to two NOPD Officers. This will be followed by a celebratory reception for everyone to fellowship and recall fond memories of Detective Williams.
When: Saturday, November 16, 2013 at 12pm
Where: The Healing Center, 2372 St. Claude Avenue, New Orleans, LA 70117