No one said it was easy to support a non-profit news organization focusing exclusively on public policy. First of all you need to understand what exactly a non-profit newsroom is, and what its writers and editors do all day. And you need to understand and value the hard investigative work it takes to foster transparent, accountable and engaged government in a region like New Orleans and the Gulf Coast.
The Lens is New Orleans' first non-profit, public interest newsroom and in relative terms it's a start-up journalism operation without a great publisher's roadmap to follow to financial and organizational stability. There's no sports coverage, no national or international news stories, no lifestyle and social coverage, no classifieds, no comics, no ads, no paper, no printing presses… just a smart, scrappy band of ethical journalists whose mission it is to study, report and write stories about capital letter public interest topics: Land Use, The Environment, Criminal Justice, Government and Politics, and Schools.
For six years now the Lens has ridden an up and down wave of grants and contributions from national and local foundations and philanthropists who understand and endorse the mission of the non-profit, non-partisan newsroom. Managing a business prone to the ebb and flow of non-profit funding is challenging to say the least. It means that continual and ongoing development fundraising and membership-raising are simply a reality that Steve Beatty, Lens Publisher and CEO, Anne Mueller, Development Director, and the Lens Board must embrace.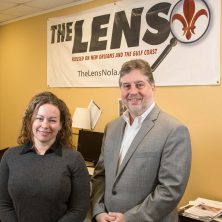 Lens Board Member and treasurer Bev Nichols is a retired CPA who has worked with plenty of not-for-profits and is so familiar with the unsettling up and down pattern of their financial operations.  "Building a rainy day fund with two or three months worth of operating capital available is just prudent financial planning with a start-up like the Lens,"  she said.  "Taking on the Freeman Challenge to raise a Board Restricted Reserve with its match reward was a great motivator and the quickest way for us to get our little rainy day fund going."
The Lens was named to the Freeman Challenge program in February 2016 and set $10,000 as its goal for the Restricted Reserve campaign.
"We asked our Board to commit to the campaign first and I'm happy to report that 100 percent participated," said Bev. "We also asked for commitments from a few of our key donors from the past and that put us over the top."
The Lens journalists go on with their important investigative work, but successfully meeting the Freeman Challenge in 2016 has added a small measure of stability to their operations.
Interested in participating in the Freeman Challenges? Attendance at a readiness workshop is required for participation. Sign up here!