Mrs. Gayle Benson generously provides matching funds of $300,000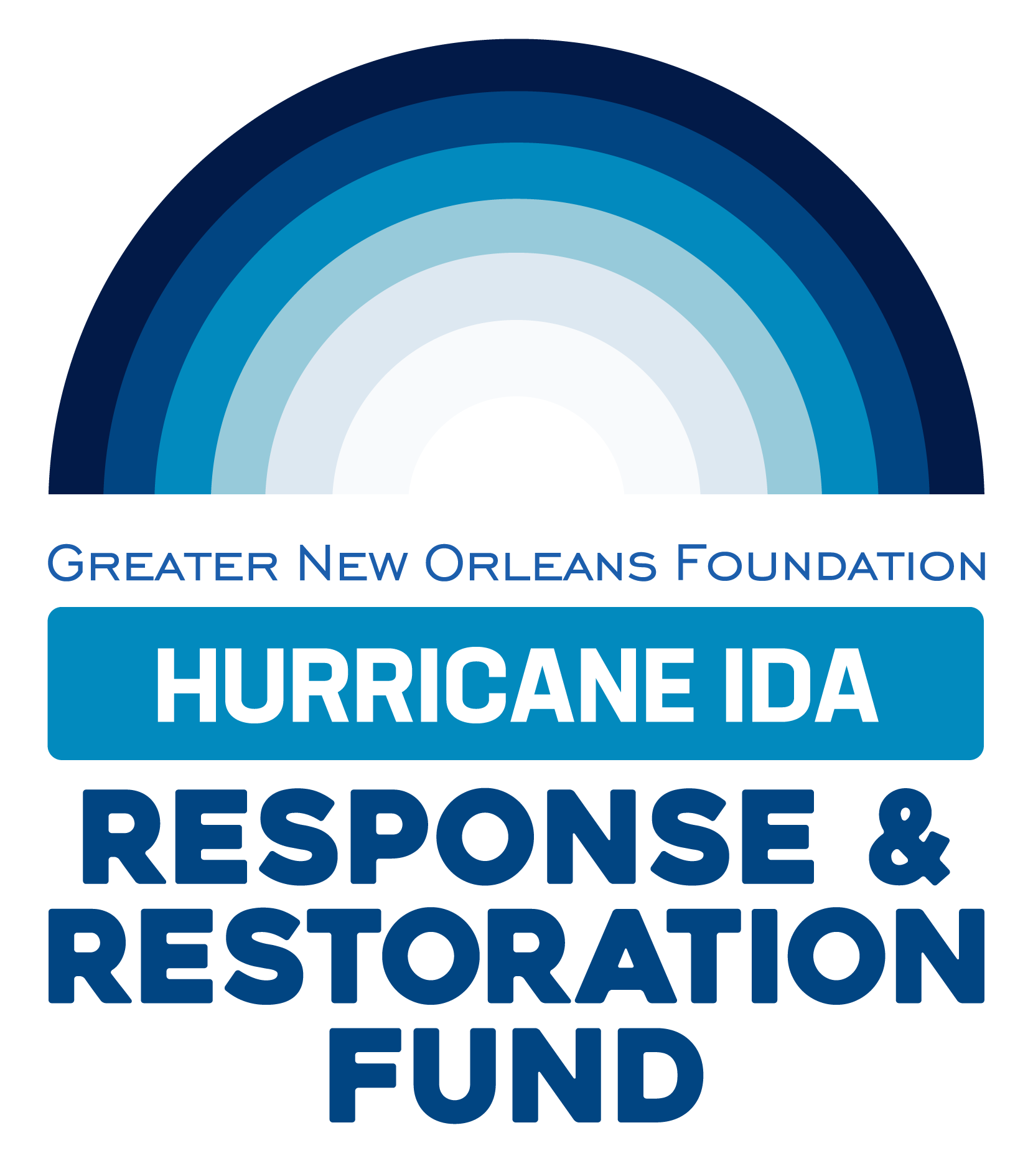 New Orleans, LA –  Today, the Greater New Orleans Foundation and Gayle Benson announced $650,000 in immediate assistance grants to local nonprofits leading disaster response. Mrs. Benson generously provided matching funds totaling $300,000. Since activating the Disaster Response & Restoration Fund last week, over 550 individuals have contributed and over $2 million has been raised. The fund also received generous contributions from The Arthur M. Blank Family Foundation, The Baltimore Ravens and The Stephen and Renee Bisciotti Foundation, Inc., The United Health Foundation, Chevron U.S.A., The Community Foundation of Northeast Louisiana, and The PepsiCo Foundation.
"The Greater New Orleans Foundation is proud to award these grants to our nonprofit partners leading the recovery effort on the ground across our region," said Andy Kopplin, President and CEO of the Greater New Orleans Foundation. "This recovery will require both immediate and long-term recovery efforts and the generosity of Mrs. Benson and all our funders puts us in the best position to quickly get our community back on its feet."
The Greater New Orleans Foundation is the community foundation for the 13-parish Southeast Louisiana region (Assumption, Lafourche, Terrebonne, St. Charles, St. James, St. John, St. Tammany, Jefferson, Orleans, Plaquemines, St. Bernard, Tangipahoa, and Washington) and has a board approved disaster response strategy that prioritizes Equity, Resilience, Nonprofit Sustainability, and Civic Participation.
After receiving guidance from parish officials performing damage assessments, and conducting due diligence to verify that the following nonprofits are actively responding to the unfolding disaster, the Foundation has made 13 separate grants ranging from $25,000 – $100,000 to the following organizations that are providing emergency food and shelter; legal aid and technical assistance for residents working to navigate applications for assistance; support mucking and gutting operations; and diaper distribution: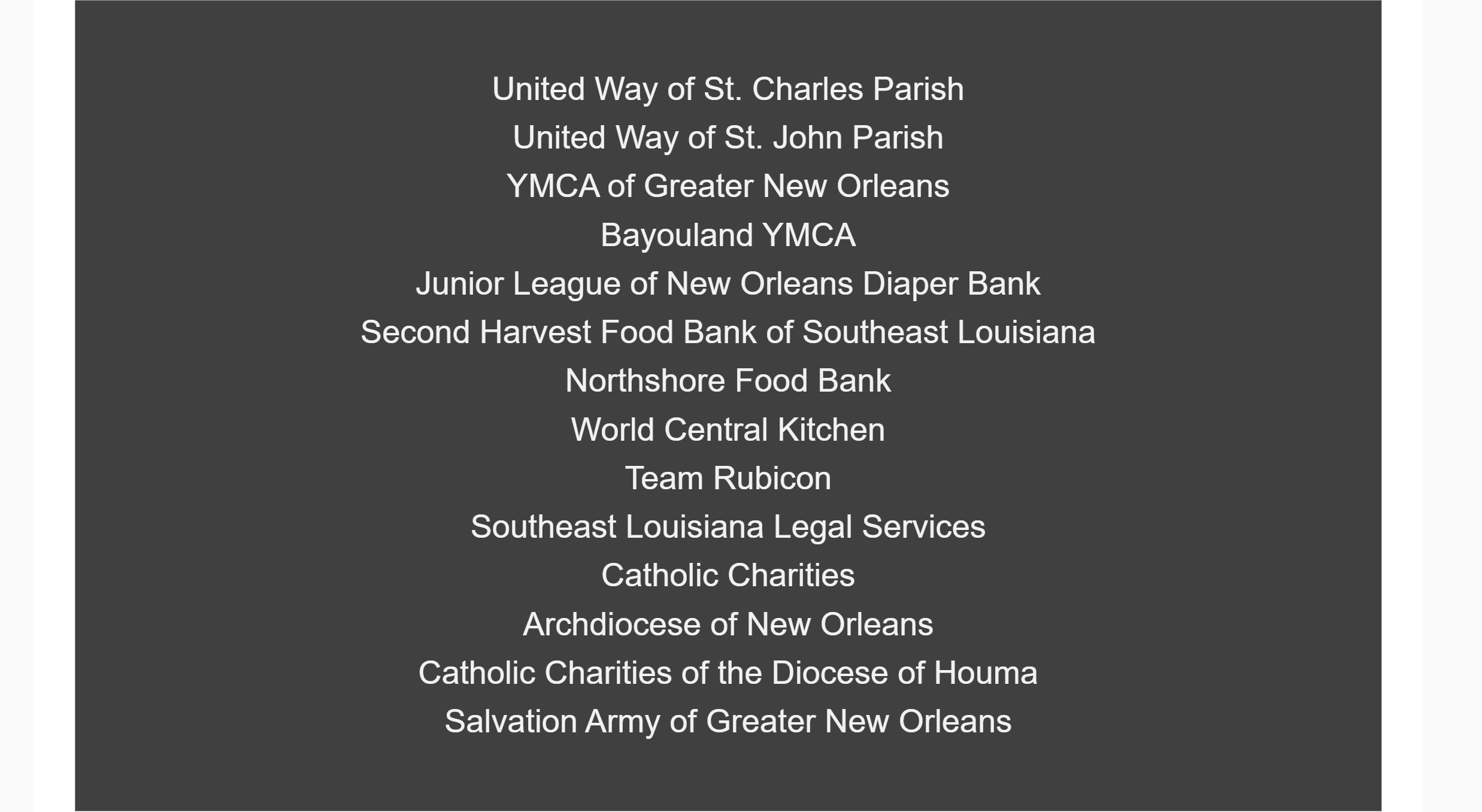 "We are proud to partner with the Greater New Orleans Foundation and its Disaster Response and Restoration Fund as our region responds to the impacts of Hurricane Ida," said Mrs. Gayle Benson, team owner of the New Orleans Saints and Pelicans. "The Foundation has the knowledge and relationships to ensure our local nonprofits have the resources they need to aid our most vulnerable communities."

Through the Disaster Response & Restoration Fund, the Foundation also mobilizes and supports a network of voluntary and community organizations active in disasters (VOADS and COADS) whose expertise is deployed locally, nationally, and internationally. And the fund is used to honor the tradition of "paying it forward" by coordinating with a network of community foundations when disaster strikes other communities to get immediate support to the most vulnerable citizens. The Disaster Response & Restoration Fund provides immediate relief as well as long-term rebuilding support.

"United Way of St. Charles is appreciative of both the generosity and the speed of this important donation," said John Dias, Executive Director of United Way of St. Charles. "Thank you on behalf of our residents who will greatly benefit from your generosity."

In anticipation of Hurricane Ida making landfall in Louisiana, the Greater New Orleans Foundation last week made five separate $10,000 grants to organizations that were staged and ready to provide emergency food and water and assist with road clearing in coordination with local governments (Second Harvest Food Bank, Red Cross, Team Rubicon, World Central Kitchen, and Via Link 211).

With the capability to get dollars where they are most needed within 48 hours, the Foundation has pre-registered over 20 organizations from across Southeast Louisiana to receive expedited grants should they be active in responding to the disaster. The Foundation also recently hosted a hurricane preparedness workshop to help local nonprofit organizations get ready for disaster and prepare their continuity of operations plans. Representatives from the Governor's Office of Homeland Security and Emergency Preparedness and local emergency management offices from Orleans, Jefferson, and St. Tammany parishes were on hand to share their expertise with the 75 nonprofits in attendance.
Donations can be made to the Disaster Response and Restoration Fund by visiting www.gnof.org.