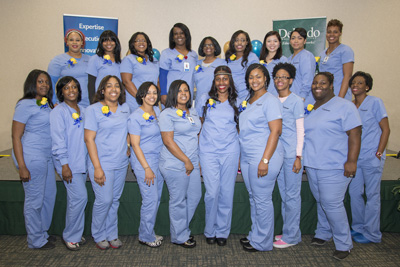 Highly Successful Workforce Partnership Continues between Ochsner Health System, Delgado Community College, Providence Community Housing, and the Greater New Orleans Foundation
New Orleans, LA – New Orleans Works (NOW), a workforce initiative at the Greater New Orleans Foundation, proudly announces the graduation and employment of 24 medical assistants who recently completed a four month training program provided by Ochsner Health System and Delgado Community College.
"This brings the total up to over 150 individuals who have successfully completed the NOW program and are employed as medical assistants in the healthcare field," says Bonita Robertson, NOW's site director, who serves as the connector between the job provider—Ochsner—and the job trainer—Delgado.
"A key ingredient for a successful workforce program is the continued development of an individual's hard and soft skills," said Robertson.  "In this case, Delgado is preparing students for the clinical duties such as performing basic laboratory tests and drawing blood, while Ochsner, through its Leadership Institute, is providing the administrative and personal skills needed for success."
According to the United States Bureau of Labor Statistics, medical assisting is one of nation's fastest growing careers because of the surge of medical care needed to meet the growing number of elderly Americans.
"We welcome these cross-trained medical assistants into our system," said Janet Snow -Godfrey, chief human resources officer for the Ochsner Health System. "They're trained in technology and in making patients feel at ease which are two highly important skills for medical assistants."
Another key ingredient for a successful workforce collaboration is to remove any barriers preventing participation. "The program provided funding for tuition and supportive services such as transportation, daycare, rental assistance, and utilities," said Larissa Littleton Steib, Ph.D., vice chancellor for workforce development and technical education for Delgado Community College.
For more information on New Orleans Works (NOW), please contact Bonita Robertson, NOW Site Director at (504) 598-4663 or by email at bonita@gnof.org.