New Orleans, LA (November 18, 2021) – Impact 100, an initiative of the Greater New Orleans Foundation, announced that its $100,000 transformative grant will be awarded this year to Hotel Hope. Impact 100, a giving circle now in its ninth year, is a group of over one hundred local women who committed to giving $1,100 for the purpose of making a single transformative grant to a local nonprofit. Recipient nonprofits will use the grant to deepen their impact and grow their network of supporters. Since its inaugural year, Impact 100 has granted out more than $1 million to nonprofits across our region.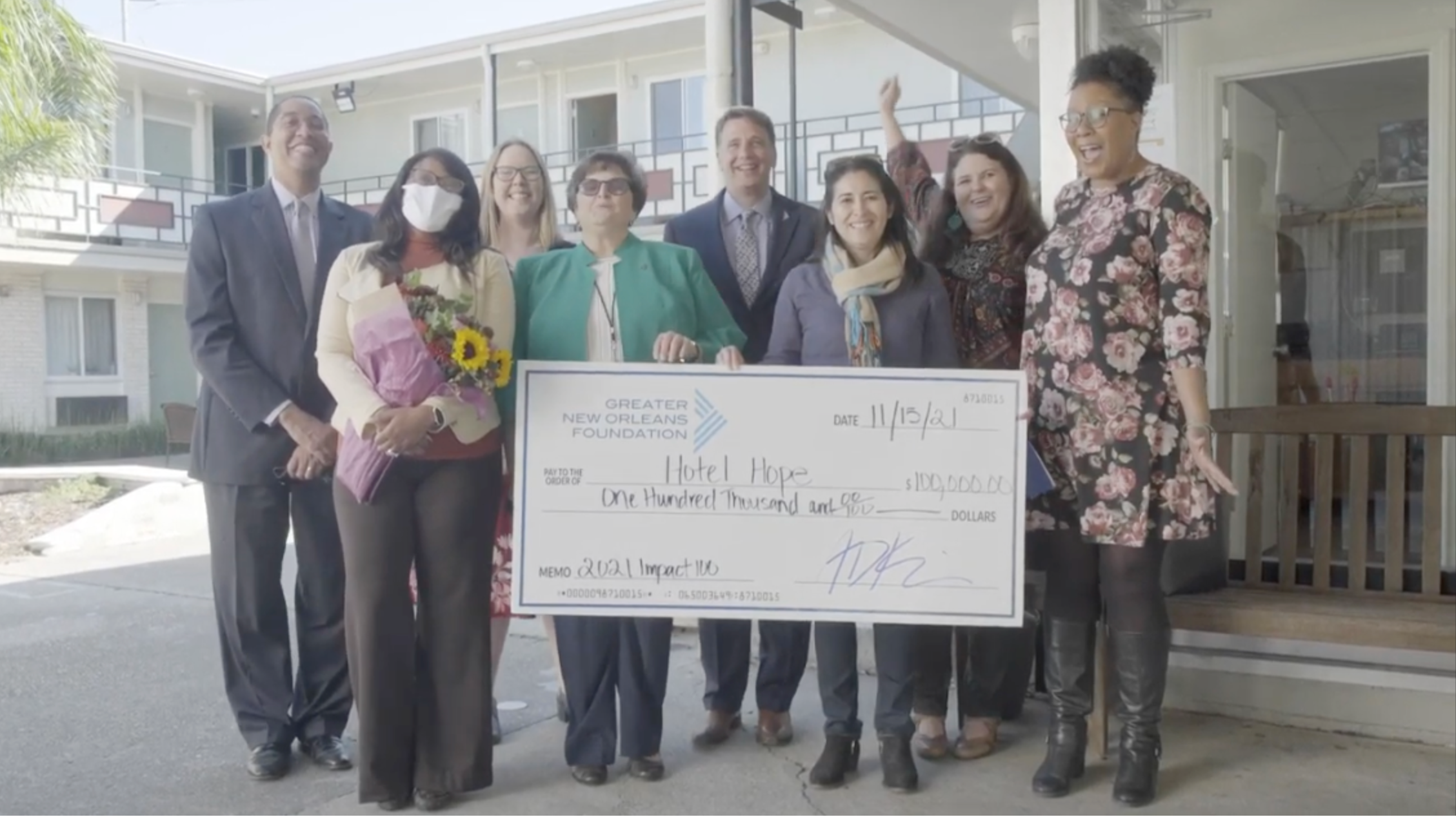 "It is both a thrill and a privilege to see the extraordinary commitment of the Impact 100 membership every year," said Andy Kopplin, President and CEO of the Greater New Orleans Foundation. "Through their dedication and generosity, these women leaders have distributed over $1 million to support our community, ultimately helping 41 nonprofits. We can't thank each of you enough for all that you do."
On Wednesday, November 10, members heard presentations from the selected nonprofits. The women of Impact 100 voted this year to hear pitches from the categories of Education, Social Services, Workforce, and Youth Development. The membership heard pitches from College Beyond, Bastion, Hotel Hope, and Silverback Society. Each of the runners up received a $5,000 grant as well as pitch training and a profile video created by our nonprofit partner NOVAC – which can be viewed, along with each nonprofit's pitch, on our YouTube page.
On Monday, November 15, staff members of the Greater New Orleans Foundation went to Hotel Hope New Orleans' headquarters to notify the nonprofit that they were the 2021 Impact 100 $100,000 grant winner!  View the winner notification video here.
"I'm incredibly proud to represent the women of Impact 100 in presenting the winning organization with their award," said Geneva -Longlois Marney, Impact 100 Advisory Chair. "To witness the work of Hotel Hope is remarkable. The staff care deeply for the women impacted by homelessness and provide them with wrap-around service to not only give them shelter but to provide them with a path forward. Thank you to the women of Impact 100 for making this transformational gift possible."
"The Board of Directors and staff of Hotel Hope are honored to receive the Impact 100 grant," said Sister Mary Lou Specha, PBVM, Executive Director of Hotel Hope. "We are committed to serve the most vulnerable in the New Orleans community—women with children—and this grant will allow us to provide emergency shelter for the many in our community struggling to find affordable housing. GNOF is a beacon of light in our community and has provided support to many over the years. New Orleans has experienced many challenges these past years but the generosity of so many is a true blessing. Thanks to all who supported Impact 100!"
Impact 100 2021 was generously sponsored by Villere & Co.
"We are excited to continue our partnership with the Greater New Orleans Foundation by sponsoring Impact 100 again this year. Congratulations to Hotel Hope for winning this year's award! We wish you well in the important work you do, and the care and support you provide to families so they can move from homelessness to self-sufficiency," said Lamar Villere, Partner & Portfolio Manager at Villere & Co. "Villere & Co. has been providing investment solutions in our region for over 100 years, and we are honored to work with the families, individuals, and institutions in our community."
About the Greater New Orleans Foundation (GNOF):
With roots extending over 90 years, the Greater New Orleans Foundation has been connecting generous people to the causes that spark their passion. As one of the most trusted philanthropic organizations in the region, we work every day to drive positive impact through philanthropy, leadership, and action in our thirteen-parish region. In addition to grantmaking, we convene people, resources, and ideas to create intelligent strategies and solutions to meet our region's greatest challenges. We are proud to serve as a vocal civic leader with our partners to ensure a vibrant, sustainable, and just region for all. Learn more at www.gnof.org.