New Orleans Workforce Innovations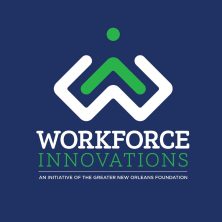 We help vulnerable employees stay and thrive in the workplace through on-site personal coaching and resource navigation. New Orleans Workforce Innovations provides one-on-one support services to employees of member companies with the goal of ensuring that employees have what they need to come to work and to focus on being successful in the workplace and within their personal lives.  We are also a member of the nationwide post hire support network, Work Lab Innovations.
Post-Hire Support
We understand that every person shows up to their job with a different background, experience, and current set of circumstances. We all struggle with barriers that interfere with getting to work, staying engaged, and remaining productive. Whether it is transportation, housing, or financial issues, our strengths and barriers can either enable us or hold us back in reaching our full potential on the job. We believe all employees have the potential to be of great value to our community and economy, but not all people are equally supported to do so. Our onsite post-hire support offers services to all employees who may need it, with particular experience supporting young, front line and middle skilled New Orleanian workers.
Workforce Sustainability & Employer Benefits
As an employer with competing priorities and an already full plate, you don't always have the time and resources to ensure your workforce is thriving. Add in the high cost of housing and lack of affordable childcare options, and your employees may need additional support so they can show up and be engaged while at work. That's where we come in. New Orleans Workforce Innovation services become part of an employer's benefits package. By helping workers address a range of life issues and challenges, we minimize work disruptions, decrease absenteeism, improve workers' financial stability, and ultimately increase employee retention and engagement.
Navigator
Navigators offer confidential assistance, connect employees with services and community resources, assist with customized planning for work and life stability, and provide career and financial coaching. Navigators are on-site and available for as long as an employee needs or desires assistance.
Offer one-on-one, confidential assistance to all employees of member companies with a focus on frontline and entry-level employees.
Connect employees with individualized services and community resources to overcome work and life issues that prevent them from holding and keeping jobs.
Meet employees at their convenience, including open office hours at scheduled worksite visits
Assist employees with customized planning for work and life stability by connecting them to resources for housing, transportation, food assistance, child care, and career and financial coaching as well as mental and behavioral health services.
Work in partnership with an employer's Employee Assistance Program and workplace benefits when available.
Areas of Support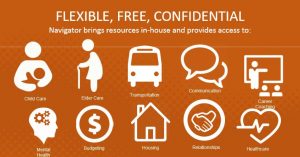 Get Connected
Employers: Interested in implementing workforce innovations at your business? Please contact Bonita Robertson.