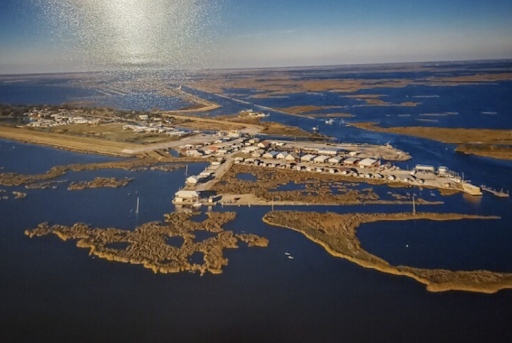 The Pointe-au-Chien Tribe has lived, planted, hunted, and fished on the land of Point-au-Chien, Louisiana for centuries, along with ancestors in the Chitimacha, Atakapas, Biloxi and Choctaw tribes. 
But their rich wetlands have been disappearing. Their shrimping industry was decimated by the BP oil spill in 2010. Oil companies have sliced through their land, in recent decades, and erosion has sawed off the coastline. Saltwater from the gulf has flowed into freshwater marshes. Pointe-au-Chien sits on Louisiana's gulf coast, and barrier islands have disappeared, making the region more vulnerable to waves and wind. 
So when Hurricane Ida hit, it hit hard.   
There are eighty homes in Point-au-Chien from where the Point-Au-Chien tribal building sits, to the Oak Point Bridge, which crosses into Lafourche Parish. When the storm had passed, only 12 of those homes remained liveable.  
"She almost wiped us out," explains Theresa Dardar. 
A house in Point-Au-Chien, Before (left) and after (right) Hurricane Ida 
Dardar is the representative for the Point-au-Chien tribe at the First People's Conservation Council (FPCC). The council was established in 2012 as an association of Native American tribes in coastal Louisiana devoted to protecting natural resources on their lands. 
Long before Ida hit, the FPCC had been working to diminish the impact of hurricanes on their communities. Through their partnership with the FPCC, the Point-au-Chien tribe built oyster-shell barriers around sacred burial mounds. They created a "safe harbor" dock for the community to keep their boats safe during storms. 
After Hurricane Ida, they turned to meeting their community's immediate needs and trying to repair homes.
Dardar began soliciting donations and volunteer support, and by the Friday after the hurricane, supplies had started coming in. Since she and her husband were among the few in their community whose homes weren't badly damaged, they showed up at the Point-Au-Chien tribal building to receive them. 
Their goal, she says, was "to find ways to save our community and to rebuild." 
Through FPCC, Dardar had built a greenhouse that she'd been planning to open up in October. Now, instead of filling it with plants, they started filling it with supplies. The tribal building became a distribution center. 
"We were getting deliveries every day. Sometimes, it was just a little bit, but it was enough to share," Dardar says.
Dardar, her husband, and other community members worked alongside volunteers to organize and distribute food, clothes, and supplies. 
"We had a lot of help, but my husband and I worked every day," Dardar says.
"Sometimes, we wouldn't get home until ten at night. We worked on Sundays."
Dardar directed many of the volunteers to work on cleaning up and mucking and gutting damaged houses. Tulane University sent a busload of students to help each weekend, and Dardar would send them to homes with tote bags that residents could use to carry out their belongings. But Dardar says that many members of their community are older, and sometimes the bags were too heavy for them to lift. 
"They would put their stuff in there, but they couldn't carry it down," Dardar explains. "Our community has a lot of elderly people, so the younger ones, the students, would bring stuff down for them. They were a lot of help."
Dardar was moved by this.
"It's a heart feeling, to see that people care so much. This is the first time that we've gotten so much help. We've never gotten any help like that before." 
Eventually, she had to slow operations just slightly. "I don't remember when I decided , but I said, 'I think I've got to start closing on Sundays and go to church. Because I hadn't been.'"
Now, their primary focus is helping the community rebuild their homes and return to Pointe-au-Chien. 
"A lot of them haven't started the rebuild because they don't have enough money. We have money from the First Peoples Conservation Council to give them but even with that, even with what the tribe gave them and what FEMA gave them, it's not enough. So you know, it's gonna be a rough road," she explains. 
The Greater New Orleans Foundation has provided support here with a grant of $50,000. Dardar is pleased that it will go to other areas and tribes as well as her own. 
"I appreciate that they gave the funds to the First People's Conservation Council because it's not just going to my tribe, it's going to four other tribes," she says. 
Across the region, FPCC will support the efforts of tribes working to rebuild, and to strengthen protections across the land so that the next storm does less damage. 
In Pointe-au-Chien, they're focused next on backfilling the canals cut through their land by oil companies. This would form a protective barrier around tribal cemeteries in particular. Dardar knows that even with these adjustments and protections, some of their land will never be the same. Right now, though, she's focused on the people she loves, who have lived on it for so long.
"I pray a lot that our community will come back, and like me and my husband always say, it's gonna look different, but it'll still be our community."