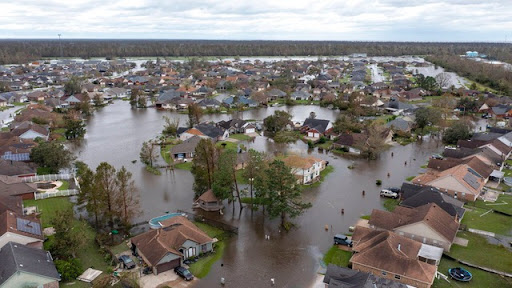 "They said, 'Pastor, is there anything you can do to help us?'" he explains. "They had nowhere to go. And so that night—midnight—on August 29, I drove to our facilities. There were no lights. Water everywhere. I opened our facility so that rescue vehicles could bring people who were being rescued out of their attics, rescued out of their homes. They brought them here, and we gave them a place of shelter." 
The night Hurricane Ida hit, members of the St. John the Baptist Parish government called Pastor Neil Bernard. Their buildings were damaged, and they asked Pastor Bernard if his church, the New Wine Christian Fellowship, had any space.
The parish government knew to call Pastor Bernard in a crisis—he's a community leader, and his congregation has focused on service since they launched in his living room in 1995. The church had a clear philosophy from the start. 
"We needed to do more than just preach a sermon," he says. "We needed to be a sermon. We needed to take the gospel out of the four walls of the church." 
For nearly thirty years, they have done exactly that with efforts like tutoring local students, hosting workforce training, and teaching computer skills to incarcerated people. The church has expanded well beyond Pastor Bernard's living room to a multi-building facility just off of West Airline Highway. 
Over the years, it became a local hub, complete with a food bank in a large, warehouse-like building. Pastor Bernard chose to open up that warehouse space the night of the storm. When firemen and first responders rescued people from their homes, they headed to New Wine, and Pastor Bernard was there to receive them. The scope of the disaster quickly became clear. 
"We probably had about seven thousand homes underwater. Our community was hit by the third strongest hurricane ever to hit Louisiana in the last 150 years. Just like Katrina devastated New Orleans, Hurricane Ida devastated St. John the Baptist Parish," he explains. 
New Wine quickly became central in addressing that devastation. But when Pastor Bernard talks about his role, he talks about partnerships. Pastor Bernard is a connector; he begins building a relationship with a person the moment he shakes their hand. He wants to know and understand people, and he's quick to notice someone's strengths.
So as more and more people arrived at New Wine's warehouse, Pastor Bernard started making some calls of his own. He rallied people he knew and organizations he'd worked with to begin a response. 
"We immediately kicked into action. We started working with some of our local, state, and national volunteer organizations, bringing in relief supplies, food, water, hot meals, cleaning supplies, and so forth."
Alongside their partners and volunteers, New Wine started handing out supplies, water, food, and cleaning supplies six days a week in their parking lot. It was an enormous, efficient operation, but Pastor Bernard takes little credit for himself. 
"We served over 26,000 hot meals in the first month and a half period after the storm…and when I say we did, I mean we had partners like Mercy Chefs, Eight Days of Hope—even Denny's came and cooked breakfast. And so I was grateful. We had a lot of partners. And we came together."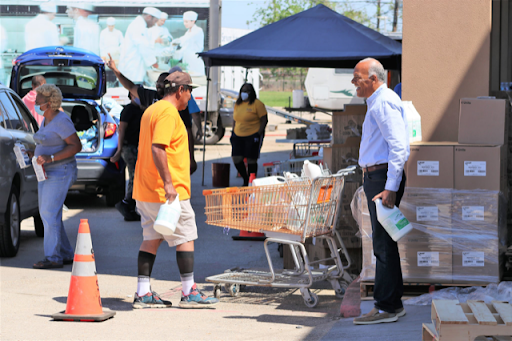 Pastor Bernard also began coordinating teams of volunteers to head into the community to get homes ready for repair. Again, he points out the work of others.
"We were able to tarp literally hundreds of roofs—and when I say we, I mean agencies that worked with us, volunteers that worked with us—we were able to cut trees, tarp roofs, and groups came from all over to help us begin to gut homes." 
It wasn't easy. There was no power or clean water in New Wine's facilities for three weeks. The parish had received some of the heaviest rainfall in the state. The scope of the damage was profound. Even with all that New Wine and their partners were doing, so much need remained. So Pastor Bernard kept building connections and rallying support. 
"We brought government, we brought the United Way, we brought agencies, and the Greater New Orleans Foundation stepped to the plate, along with other organizations. We brought everybody together and said, 'This is where we are in the community…and we're going to need help.'"
The Foundation had learned of New Wine's work from one of their parishioners, who is also on our Board. Then we conducted our due diligence and offered New Wine $20,000, which was generously matched by Mrs. Gayle Benson. New Wine put it toward their food assistance efforts.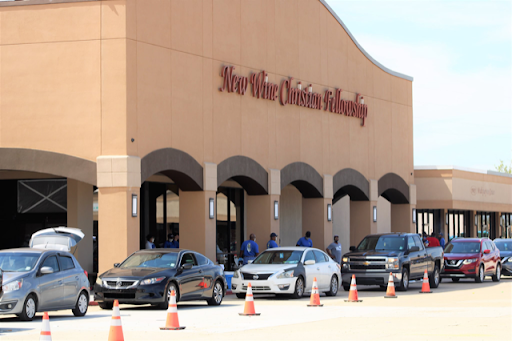 Meanwhile, Pastor Bernard kept leveraging the power of relationships. He arranged for volunteers to take down the information of people who needed new homes but were uninsured. He then began coordinating teams to help them rebuild. 
"It's amazing how we've had volunteers come from all over the United States give up their own time and to help the people in our community rebuild. To put new roofs on at their own expense. We've had agencies donate shingles, building supplies, sheetrock, insulation, and we've been able to coordinate those efforts and direct the volunteers to the people who need it the most," he says. 
One of those people was an 82-year-old man who had been living in a hotel since the storm but could no longer afford to stay there. He insisted to Pastor Bernard that he needed to go home. 
"But his house was in such disarray. It wasn't livable," Pastor Bernard explains. "So one of our disaster response teams went and put a new roof on his house, put siding on his wall, put sheetrock in his home. And when that 82-year-old man walked into his home, he broke down and cried—just overwhelmed because of the kindness and the goodness of strangers who helped him rebuild."
Pastor Bernard says this isn't an anomaly. "Those are the things that we now begin to see almost every day," he explains.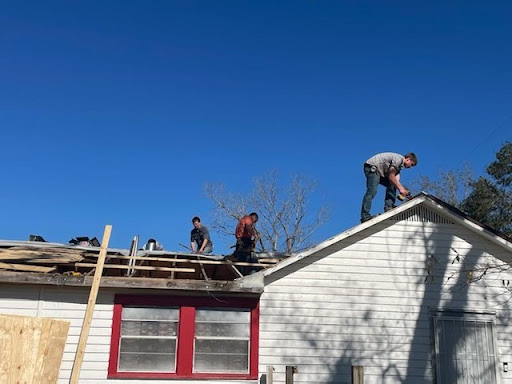 He feels that sometimes, disasters present an opportunity to help those who may have needed support long before that moment. 
"I say a lot that sometimes disasters pull the blanket off of the community, because a lot of people were hurting and struggling before the disaster, a lot of homes needed work before the disaster, and disaster just compounded it," Pastor Bernard says. 
He finds hope in the rebuilding. Pastor Bernard wants the houses of St. John Parish to be stronger than the ones that stood before. He sees this as an opportunity for workforce training, too, and youth empowerment. He's already started a partnership with the school district to train young people to build and repair homes. They'll be prepared for high-demand jobs through which they could earn a good living. 
"I'm a dreamer," says Pastor Bernard. "I really have a dream of seeing St. John Parish coming back better than it was before. As we work together, I really believe that we're going to see a better community."