Partners in Philanthropy
By joining our annual fund campaign as a Partner in Philanthropy, you  fuel the Foundation's work, just as the Foundation fuels the work of so many nonprofits. Many of us take part in GiveNOLA Day; the Foundation spends tens of thousands of dollars promoting GiveNOLA Day and takes the very rare step of not assessing fees during it so that every dollar our community gives goes straight to nonprofits. Consider your donation to PIP as a GiveNOLA Day for the Foundation itself. It provides the Foundation with the fuel we need to lead our region's philanthropic community. By supporting the Foundation's work right now, you boost the power of our giving, and the Foundation's year-round leadership in many of the efforts you see below.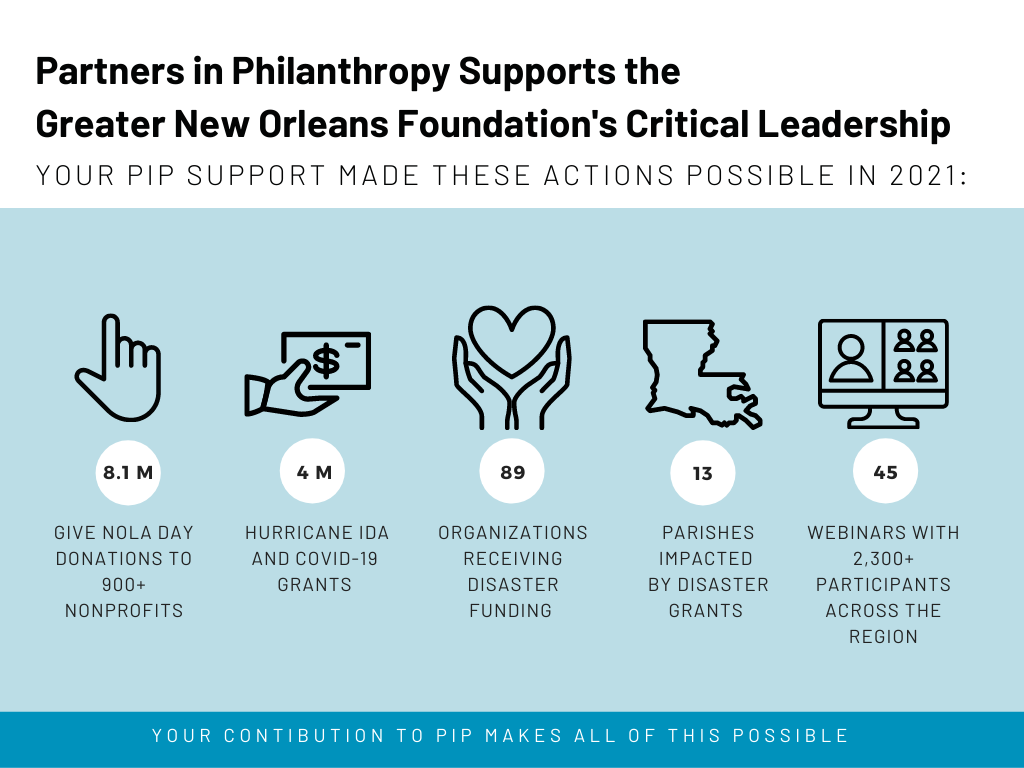 Helping Our Community When It Needs Us Most
Because of the generosity of our community to the Greater New Orleans Foundation, our team works quickly before, during and after disasters like Hurricane Ida strike. With your support, the Foundation has worked diligently through year two of the coronavirus pandemic to ensure funds continue to flow to people and families in desperate need of help. We have made grants to organizations that  focus on climate resiliency, positively engage young people, work for racial equity, support LGBTQ communities, and more. We've bolstered efforts to revitalize the BioDistrict in Downtown New Orleans and train workers for jobs in health care and building green infrastructure. 
Through all this, the Foundation has remained a leader in grantmaking, disaster response, and civic life—we have been strategic, prepared, and effective every step of the way.
Disaster Response & Restoration Fund: A Powerful Force For Good
Our Disaster Response and Restoration Fund drives our effort to support and sustain a nexus of voluntary and community organizations active in disasters and whose expertise we deploy locally, regionally, and beyond. With the capability to get dollars where they are most needed within 48 hours, we have pre-registered over 20 organizations from across Southeast Louisiana to receive expedited grants should they be active in responding to a disaster. This is exactly what we did in the three days before Hurricane Ida made landfall when grants were made to organizations focused on disaster preparation. 
Gifts to Partners in Philanthropy, our annual fund, throughout the year, made us ready to respond when Ida tore through the heart of the 13-parish region that we cover. The Foundation has distributed over $3 million in four rounds of grants in Hurricane Ida Relief. Since activating the Disaster Response & Restoration Fund prior to the storm, more than 1,300 individuals have contributed and over $6 million has been raised. We've made grants to food banks and food pantries that immediately set up in the days following the storm.  We made grants to nonprofits that provide health services, legal aid and technical assistance for residents working to navigate applications for assistance. We supported organizations in diaper distribution and school support for children and young adults and awarded grants to organizations focused on the mental health issues that arise for storm victims. You can view an ongoing list of Hurricane Ida Disaster Response and Recovery grantees here. Your generous gift gives us the capacity and the resources we need to be nimble in our response. 
Please consider supporting the Greater New Orleans Foundation as we do our critical work ensuring we continue to be uniquely positioned to drive positive impact for our communities today and into the future.