Celebration of Black Philanthropy
Celebration of Black Philanthropy
September 21, 2020


6:00 pm CST

Virtual

RSVP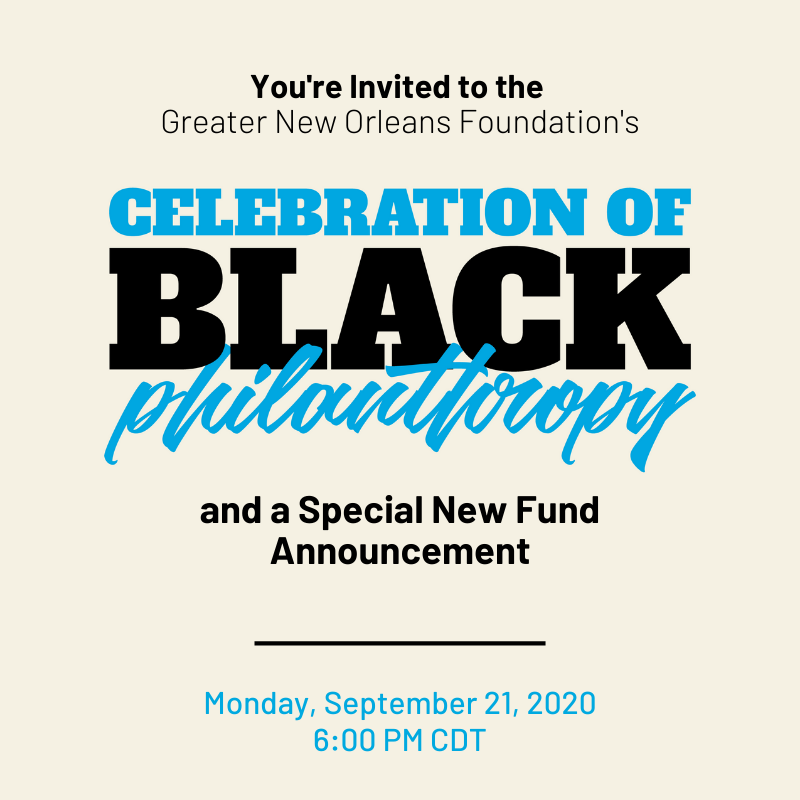 August is Black Philanthropy Month where organizations around the world celebrate the giving of the black community. Philanthropy in the black church, social organizations, and the Community Foundation has too often been unrecognized in New Orleans. That is why the Greater New Orleans Foundation is excited to have its Celebration of Black Philanthropy for the third year in a row.
Two years ago we used social media to profile black philanthropists in the region who partner with the Foundation. Last year, we recorded a video which you can see here and hosted 100 guests for a reception and panel discussions on the impact of black philanthropy in our city. Learn more about last year's event here.
Today, we are inviting you to attend the Greater New Foundation's virtual Celebration of Black Philanthropy!
Due to the threat of Tropical Storm Marco and Hurricane Laura in our region, the event is now planned for Monday, September 21, 2020 at 6:00 p.m. CDT and will highlight GNOF's commitment to black philanthropy and investment in important causes; spotlight local and national philanthropic and nonprofit partners leading in racial equity work; announce a special new fund; and invite all philanthropists in the region to partner with the Foundation on exciting work. More virtual event details will be provided following RSVP.
This year's event will be held in special honor of the late Ellis Marsalis and his commitment to philanthropy in the Greater New Orleans region.