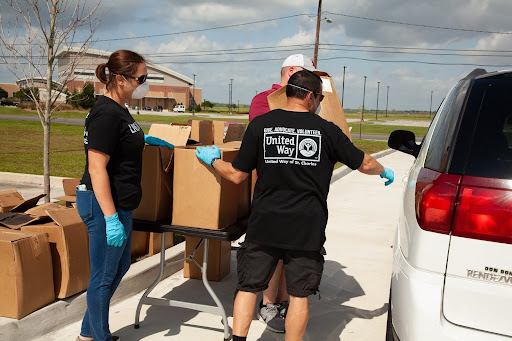 The United Way of St. Charles Parish (UWSC) has five staff members. During Hurricane Ida, three of them lost their homes. Their office was destroyed, too, but the team got to work within 72 hours of the storm. They set up in the River Parishes Community College building and got ready to connect their 55,000 community members with the supplies and support they needed. 
The UWSC team was devoted. One member of the team didn't leave when the day was done. The heat was stifling, the power was out, and the building was damaged, but supply donations were coming in from all across the country. She wanted to be there to receive them.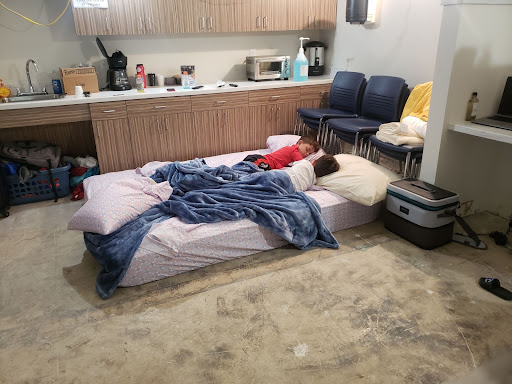 "She literally decided to just stay here on a blow-up mattress with her two children," explains John Dias, Executive Director of UWSC. "So that when a truckload of water from Tennessee showed up at two in the morning, someone was here—because don't forget, phones were out. Even though this young lady and her kids could have lived with family and relatives, she chose to stay for weeks to make sure that people in the community got the food, got the water, got the ice they needed. So that we, as the United Way, lived up to our promise." 
It wasn't easy. "We fought a battle," Dias says.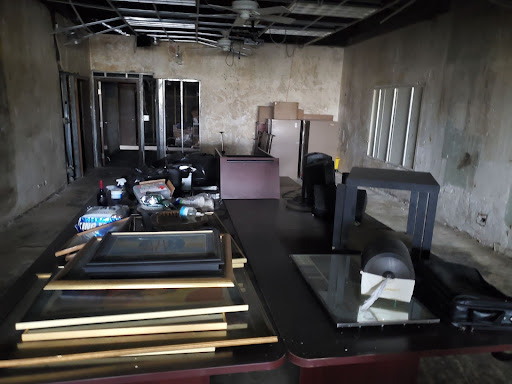 Dias is straightforward, with the demeanor of a good coach. He's unafraid to name the difficulties he and his team have faced. He's also determined to come out the other side stronger.
"We fought the lack of ability to communicate, and the heat, and our old office devastated, and the community college building having no power—and despite all that, we are still able to go back and serve our community," he explains. 
Despite its damage, the River Parishes Community College was a fitting spot for the United Way, who had helped bring the community college to St. Charles just before the storm hit. 
Within those first 72 hours, Dias and his team had set up two websites to find volunteers and connect them with those who needed help. They offered to house volunteers in the community college building, and use it as a warehouse for donations as well. As supplies came in, the team began distributing them across more than a dozen sites throughout the community. Dias estimates that in the three weeks just after Ida, they distributed over 300,000 pounds of food, water, and supplies. 
He is humble about these efforts. "That's not just because of the United Way," he says. "That's because of the support we get from our community, from industry, from the Greater New Orleans Foundation, from things like that. So it makes me feel like, despite a pretty ugly situation, we did okay."
He says that, for UWSC, connections with the Greater New Orleans Foundation and industry partners are what keep their organization going. "Our success 100% rises and falls on that support, frankly," he explains. 
After Hurricane Ida, that support came quickly.
"The Greater New Orleans Foundation was I think the first group after the storm that proactively got a hold of me and said, 'How can we help?'" says Dias. "And we're talking real close after Ida, so that was really nice—to kind of be able to take a breath, and realize there's help out there." 
With the help of $25,000 from the Foundation, matched with $25,000 from Mrs. Gayle Benson, UWSC has been an engine of St. Charles Parish's recovery. They worked closely with parish government and other nonprofits and targeted their support towards those most in need—seniors, single-parent families, families making a low income, and those with disabilities. 
The Foundation's funding went to both immediate needs and longer-term recovery support. Right after the storm, UWSC engaged in disaster cleanup, and offered housing for those most in need. Through supply distribution events, they shared critical supplies for their community, like tarps, hygiene products, water, ice, and clothing. In collaboration with their partners, they served over ten thousand meals. They ended up moving in fully to the community college, serving as a resource within a resource in their community. 
They also served as case managers for families in need of housing. When the St. Charles Parish government found out about a family of six with four small children who'd been living in a tent, they reached out to Dias and his team for help. Right away, UWSC put them up in a hotel, and then used their partnership with Catholic Charities to find them long term housing. 
They provided temporary housing assistance like this for more than twenty families. Then, their case managers worked with FEMA to get these families approved for long-term housing support. 
For Dias and his team, long-term recovery isn't only about basic needs like housing and food. It's also about bringing their community together around joy instead of tragedy—like their annual 5k run and walk over the Hale Boggs Bridge.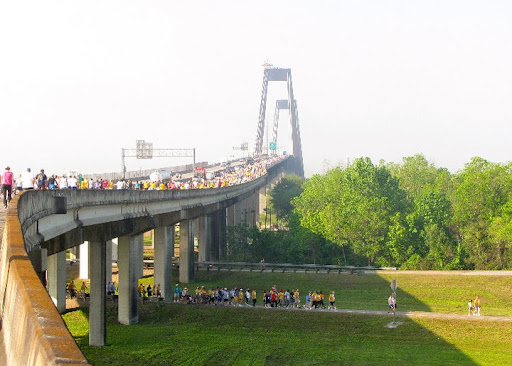 "I know maybe this sounds corny, but there really is a strong sense of community identity in St. Charles Parish, and between COVID and Ida in the last two years, we haven't been able to hold this event. We get three thousand residents to come and run and walk across the bridge. And the bridge itself is very much a symbol. I think to the residents in St. Charles Parish, we identify with it—you know, if you were San 
Francisco, it would be the Golden Gate, and here in St. Charles Parish, it's the Hale Boggs Bridge."
USWC owns a small trailer they use for materials for the 5k each year. They tend to fill it with markers for the starting and finish lines and equipment for along the route. But during Hurricane Ida, they loaded it with food and water to distribute instead. 
They adapted. Now, they're ready to return to that moment of community health and celebration. They made the decision to hold the 5k run once more. Dias and his team are well underway in planning, and the event is scheduled for June.
Dias is excited to look ahead, but he is reflective about his experience during the storm. He's proud of his team and his community.
"I think it was A Tale of Two Cities that starts off with 'it was the best of times, it was the worst of times,' right?" he says. "Look, Ida was, in some ways, the worst of times—but in some ways, it produced the best of us."