The Gert Town Community Fund
This grantmaking program is currently closed, but we encourage you to revisit this page often to learn about new grant cycles.
---
TBPurpose
The purpose of the Gert Town Community Fund, a Donor Advised Fund of The Greater New Orleans Foundation, is to enhance the quality of life for people in the Gert Town Community. An advisory committee of business and civic leaders meet annually to review grant requests in various program areas. Program areas include: children and youth; housing; older adult services including transportation; community leadership capacity building; adult education; and legal services (successions, taxes, or other housing matters).. In addition, the committee is interested in community beautification projects (i.e. tree planting, greenspace maintenance, and neighborhood cleanup). Only ONE application per organization will be accepted.
The Fund will support nonprofit organizations that serve the Gert Town Community. Please see the map below or contact The Greater New Orleans Foundation for more details on the geographical boundaries for the fund.
Proposal
The Gert Town Community Fund accepts only electronic application submissions through the Foundation's online portal. The Greater New Orleans Foundation's technology partner, Foundant, has created a brief tutorial for applicants that may be viewed here. It is highly recommended that all applicants review this video before beginning a new application in order to better understand the electronic submission process. Proposals that are not submitted electronically may not be considered. All applications must include the following:
Organization Information – describe the work of your organization by addressing each of the following topics:
organization history and mission
current programs and accomplishments
organizational budget
Funding Request – describe the program for which you seek funding by including the following:
a statement of the program's primary purpose and the issue that you are seeking to address
the population that you plan to reach, how you plan to inform it, how it will be involved, and how it will benefit from the program
the number of people who will be served, should this grant be approved
strategies that you will use to implement your program
staff and organizational capacity to deliver this program
anticipated length and timeline of the program
organizations you are collaborating with that also serve Gert Town
program budget
a list of other sources of funding for this program
Evaluation – explain how you will measure the effectiveness of your program, including:
your criteria for success
the outputs and outcomes you expect to achieve by the completion of the program
your plans for future funding and how will you sustain the program
In addition, you must include the following attachments:
current and prior year operating budget, including expenses and revenue
program budget and budget narrative, including a list funding sources that you have asked to support this program
a list of board of directors
a copy of your most recent audited financial statements or, if not available, a copy of your most recent IRS forms 990, or 990EZ/Accountant Statement
Grantmaking Schedule
Grant requests must be received by 11:59 pm on the deadline date. The deadline and notification dates are:
Application deadline:
TBD
Notification date:
TBD
Reporting Requirements
If a grant is awarded, the grantee is required to submit interim and final programmatic and financial reports outlining the use of grant funds and the impact of the grant on Gert Town residents and the community. Click here for reporting guidelines.
Service Area Map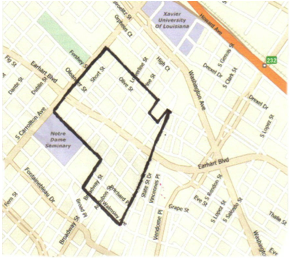 Approximate boundaries: the geographic granting area is roughly from South Carrollton Avenue on the west side (between Fig and Edinburgh streets) to College Court on the east side (between Walmsley and Clio streets).