Click here to see the members of Impact 100 2017
Impact 100 is guided by an advisory committee. Thanks to the members who have provided suggestions to shape this year's program.
Click here to see the 2017 Advisory Committee
Impact 100 Events
Kick-Off Event: Breakfast with Dr. Elizabeth Dunn
Tuesday, October 3, 8:30 – 9:30am
Greater New Orleans Foundation Center for Philanthropy, 919 St. Charles Avenue
The Science of Happier Spending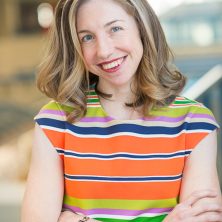 Does spending money make you happier? The answer is yes, if spent on other people, according to Dr. Elizabeth Dunn, co-author of Happy Money: The Science of Happier Spending. A researcher on self-knowledge and happiness, Dr. Dunn is an expert on positive psychology and whose research has been featured in The New York Times, The London Times, Time and CNN. Dr. Dunn is a professor in the Psychology Department at the University of British Colombia.
Meet the Nonprofit Leaders
Thursday, October 26, members will hear presentations from the nonprofits at the Old U.S. Mint. Four nonprofits, one from each of the four funding categories, will present how they would spend the $100,000 grant. The four categories are: Arts & Culture; Education & Youth Development; Environment; and, Health & Social Services.
Celebration of the $100,000 grant
On Thursday, November 2, we will gather to celebrate the winning nonprofit.
If you have any questions, please contact Allie Betts, development officer at the Foundation, 504-598-4663 or allie@gnof.org.