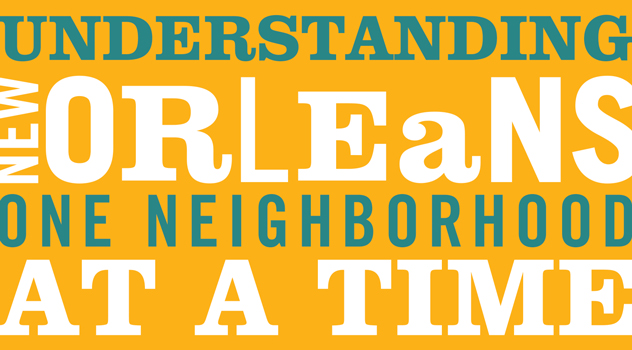 Please join the Cornerstone Council of the Greater New Orleans Foundation for a bus tour of Central City on Thursday, October 24th from 4:00 to 6:30 pm.
Reserve a seat today
To reserve a seat and make your contribution, please register below. For questions, please call Alice Parkerson at 504-598-1291.
Tour Central City with Richard Campanella
Discover the positive changes taking place in Central City where you will meet the leaders of several nonprofit organizations including Families and Friends of Louisiana's Incarcerated Children, Good Work Network, and Youth Empowerment Project. The tour will begin with an introduction to the rich history of Central City with Tulane University's urban geographer Richard Campanella and end with refreshments at the Friday Night Fights Gym.
And, do some good along the way…
When you contribute $100 to the pool, 100% of your gift is tax deductible and will be awarded to one or all of the nonprofits we visit. With 50 guests each donating $100, a total of $5,000 will be raised. Will  you vote to give all $5,000 to one nonprofit organization? Or, will you decide to award multiple grants? The choice is yours.

You may also make a donation by sending your check to:
Greater New Orleans Foundation
1055 St. Charles Ave, Ste 100
New Orleans, LA 70130
Please make your check payable to the Greater New Orleans Foundation and write "Cornerstone Council Bus Tour″ on the memo line.
About the Cornerstone Council
The Cornerstone Council is a network of professional advisors who provide insight to the Foundation. Members – including accountants, lawyers, investment managers, and financial partners and advisors – help the Foundation gather and disseminate knowledge, perceptions, and input from experts in the field of estate and financial planning in order to better serve the philanthropic community.